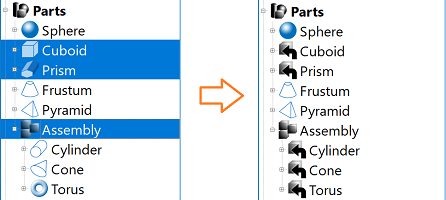 The Flatten Selected Parts macro removes all features from the modeling sequence of multiple selected parts, providing functionality equivalent to right-clicking on each part's modeling sequence and choosing the Flatten option. Flattening parts decreases project load times and frees computer memory, impacting projects that contain a large number of parts and modeling operations.
Use the macro by following these steps:
Download Flatten Selected Parts.xmacro
Place the file in your Macros Menu directory, or right-click on

Scripts

in the

Project Tree

and choose

Import Scripts

.
Select the desired parts and assemblies in the

Project Tree

.
Execute the script by either selecting it in the

Macros Menu

, or clicking the

Execute Macro

button in the

Scripting Window

.
When executed, the script cycles through the selected parts and assemblies, flattening each modeling sequence. Upon completion, a window indicates the number of flattened parts.