I received the USB key. How does it work with the provided license?
The USB key license configuration relies on the WaveFarer license file (
*.lic
) and the USB dongle. Both must be available on the machine running WaveFarer.
Plug the USB dongle into the machine running WaveFarer.
Follow the steps in USB Key Drivers to download and install the driver for your key.
Follow the steps in USB Key Licensing to save and specify the license file.
WaveFarer will authenticate the license file against the USB dongle and allow users to run the software. WaveFarer will not run if either the license file or the USB dongle is missing.
Why doesn't my green USB 9-key work?
Green USB dongles are an older version with limitations. Additional steps may be taken if WaveFarer does not authenticate the license.
Ensure the 9-key driver is installed. Uninstall the 10-key driver if it is installed.
Unplug all other dongles, including those from other software vendors. There can only be one USB dongle plugged in at a time.
Try a different USB port.
Why does WaveFarer sporadically lose my license?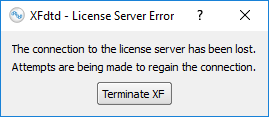 Customers have reported an issue with WaveFarer in spite of proper licensing. A dialog appears stating that the license has been lost while the user interface (UI) is running. The UI is unresponsive and simulations pause while this window is open. The dialog will close once the license has been re-authenticated.
WaveFarer requires access to both the USB dongle and the WaveFarer license file in order to run. The reported issue occurs when the USB dongle loses connection with the USB port and is related to the machine hardware, not the WaveFarer software or licensing. The problem is usually resolved by plugging the USB dongle into a different USB port. Users should contact Remcom Support if the issue persists.